---
Business Management, Bachelor of Arts
Faculty
Media Sciences
Course of studies
Business Management
Degree
Bachelor
Academic degree
Bachelor of Arts
Start
Winter semester/Summer semester
Regular study period
6 Semesters
Further qualification
Business Administration (M.A.)
Industrial Management (M.Sc.)
Media and Communication Studies (M.A.)

Category
management
media

Study fields
Business and advertising psychology
Tourism, hotel and event management
Fashion, trend and brand management
Insurance Management
Internationale Marketing and Management
International hotel, resort and cruise management
International Automotive Business
Soccer business and sports business

Type of study
full-time studies

Description
expiring course of studies
Admission restriction
No
Tuition
Yes
Credits
180
Accredited
Yes / certificate
Application portal
Zur Zeit keine Onlinebewerbung möglich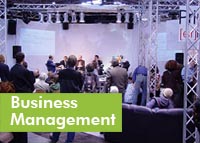 The following degree course program is offered exclusively in cooperation with Akadmie für multimediale Ausbildung und Kommunikation – AMAK AG at the Mittweida University of Applied Sciences.
According to guidelines and under supervision of the Mittweida University of Applied Sciences, the first four semesters of this six-semester course are carried out in a Private Public Partnership (PPP)-model at private academies. For this part of study, fees will be charged. In the following 5th semester, students become enrolled at the Mittweida University of Applied Sciences, where they also will finally finish their studies.
For further information on admission requirements, deadlines, locations and tuition fees, please contact the academies directly.
The modularized degree course is accredited and complies with new European standards.
Characteristics of the study programme
The study programme provides students with topical und forward-looking findings of science-based corporate management and administration. Graduates are to independently apply scientific methods for all commercial and administrative areas of activity, taking into consideration and weighing economic, legal, social and societal framework conditions and prospects. Thus, graduates are able to take over executive functions in private and public institutions, as well as to act as entrepreneurs or to work freelance.
The study programme combines basic knowledge in terms of business administration and key aspects in the special fields of tourism, hotel business and event; corporate communication and publishing; international and European management; marketing, brands and media, as well as online-marketing management. Against the background of fundamental and principle changes in business and economy, the study programme meets the requirements of market- and branch oriented training.
The close links to the occupational area become visible by the high proportion of prestigious lecturers and extended external project-related studies.
Fields of study
Tourisms, Hotel Business and Event
Corporate Communications and Publishing
International and European Management
Marketing, Brands and Media

Online Marketing-Management
Objectives of study
Graduates are competent to take over responsibility in various sectors. Based on broad technical knowledge and different key competencies, they can master complex tasks of the respective line of business in terms of economic, communicative-psychological, legal, political and international dimensions and actively contribute to integrated institutional processes.
Scheme
Tuition provides the scientific foundations, methods and special knowledge in an application-oriented and practically relevant way. In many modules, the study programme integrates students in topical and concrete application scenarios of different branches in which they, accompanied by academics, work independently in team and take over responsibility themselves. During the private period of training, close connection to relevant institutions at the locations of the academies will be established.
Key subjects in the degree course Business Management are the technical disciplines of the study facilities. In addition, fundamental skills and qualifications are imparted, enabling graduates to reflect commercial acting with international prospects and to articulate specialist issues in the information society.
Admission requirements
Take up studies can applicants who possess
a General qualification for university entrance or

a subject-related university entrance qualification or

an Advanced Technical College Certificate

a miscellaneous university entrance qualification.
Moreover, partner academies have individual admission procedures. Further information can be directly received at the academies.
Application
Applications are to be addressed directly to the partner academies of AMAK AG. Further information on admission requirements, deadlines, locations and tuition fees can be exclusively and directly obtained at the academies.
A topical overview of academies can be found here.