---
Film and TV, Bachelor of Arts
Faculty
Media Sciences
Course of studies
Film and TV
Degree
Bachelor
Academic degree
Bachelor of Arts
Start
Winter semester/Summer semester
Regular study period
6 Semesters
Further qualification
Media and Communication Studies (M.A.)
Industrial Management (M.Sc.)

Category
media

Study fields
Project development and management
Creation / Editing / Animation
Concept and direction

Type of study
full-time studies

Description
expiring course of studies
Admission restriction
No
Tuition
Yes
Credits
180
Accredited
Yes / certificate
Application portal
Zur Zeit keine Onlinebewerbung möglich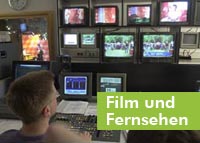 The following course of study is exclusively offered in cooperation with Akademie für multimediale Ausbildung und Kommunikation – AMAK AG at the Mittweida University of Applied Sciences.
The first four semesters of this six-semester course are conducted in a Public Private Partnership (PPP)-model at private academies according to specifications and under supervision of the Mittweida University of Applied Sciences. This part of study is subject to tuition fees. At the beginning of the 5th semester, students become matriculated at the Mittweida University of Applied Sciences where they also finish their studies.
For further information regarding admission requirements, deadlines, locations, and fees, please contact the academies directly.
The unitized course of study is accredited and corresponds to latest European standards.
Characteristics of the course of study
The degree course 'Film and TV' is set up interdisciplinary, according to the "Mittweidaer Modell".
Students obtain media economic, media-technological as well as journalistic and design knowledge, skills and competencies, both in order to plan media productions and services responsibly and creatively and to carry them into effect and market them.
The degree course addresses interested students who are artistically and creatively talented and who want to act in the fields of multimedia and artistic productions for film and TV, as well as the audio sector. The course of study is interdisciplinary and personality-forming on the one hand side. On the other hand side, it emphasizes a close project and practice-oriented training in topical, innovative and specific fields of application in film, TV and music business.
Close to the market teaching and production conditions in the form of professional infrastructure (TV/film, radio broadcasting/audio production, interactive media, and research) are available, either in the vicinity of the university or they will be provided, within the framework of the PPP-model, at disclosed academies, or media locations respectively.
Study facilities
Stage direction
Cut
Camera
Screenplay
Audio
Deciding on a study facility, the Bachelor of Arts-to be qualifies in special fields of application. Here, he acquires production-related and media economic basic knowledge, in addition to the extended special knowledge in the respective fields of operation and which focus differently on production or artistic design.
Objectives of study
In addition to its scientific aspirations, it is in particular aim of the study program to provide an application-oriented training for the professional practice of the graduates, who perform responsible tasks in various fields.
On the basis of broad specialist knowledge and different key competencies, graduates are enabled, to cope with economic, legal, media technological and journalistic aspects of the complex tasks in multimedia and artistic productions. Moreover, graduates can engage in respective media production processes in the company in a team and success-oriented way.
Representing middle management, graduates are to practice their specialist and production knowledge in a broad operational spectrum: in medium-sized companies, in nationally and internationally operating companies of the film, TV, music and advertising industry.
Scheme
Apart from interdisciplinary basic studies, students are provided with a specific training which imparts basic and specialist knowledge for the film, TV and audio production, including research and the development of material for a film, dramatic and scenic design, camerawork, light technology and design, as well as work in the recording studio.
Beside the theoretical basics, such as cinematic history, film analysis, screenplay work, film and video technology, and audio technology, the study is in particular devoted to the methods and techniques of filmmaking, TV production and audio production. The curriculum involves additional practical exercises, analyses of film, TV and audio productions as well as a distinct theme-oriented project work, which is to induce the student's design and technical creativity.
On this basis, components of the topical, documentary or effects of commercials, as well as commercialization, are included. Hence, the student becomes prepared for his occupational field and current market conditions.
Admission requirements
Take up studies can applicants who possess:
a General qualification for university entrance or
a subject-related university entrance qualification or
an Advanced Technical College Certificate
another entrance qualification.
Moreover, the partner academies have individual admission procedures. Further information can be obtained directly with the academies.
Application
Applications are directly to be addressed to the partner academies of AMAK AG
Further information regarding admission requirements, deadlines, locations, and fees are exclusively obtainable at the academies directly.
For a current overview of academies, please click here.